Puro is one of the first companies in New Zealand to grow low THC and high CBD medical cannabis. Cultivating two very different plant varieties across two distinct sites gives Puro access to two unique markets, and two distinct income streams.
We have handpicked our sites for their high sunshine hours and intense UV ratings - Marlborough has some of the highest UV rates and boast an average of 2,457 sunshine hours per year.
Our location allows us to grow high potency cannabis with truly unique flavour profiles (flavonoids) and terpenes which are essential for 'the entourage effect' and highly sought after by buyers.
We will be growing under organic protocols and have commenced the organic certification process for our outdoor crop. Once we achieve organic certification, we anticipate we will be one of a very small number of cultivators worldwide with accreditation - providing us with a highly marketable point of difference.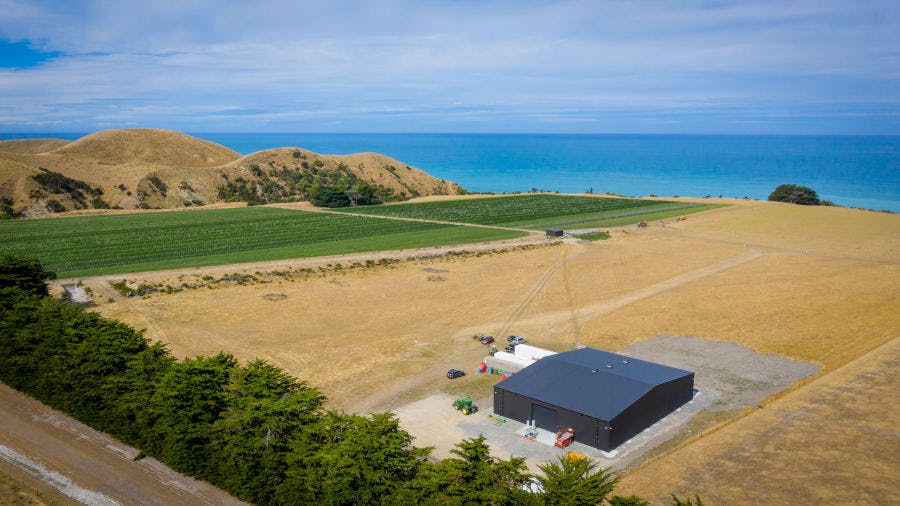 Kēkerengū
Winterhome has been farmed by the Macfarlane family for more than 130 years - it is a privilege to be able to access this special place.
Overlooking the Pacific Ocean, its elevated coastal property provides a very special microclimate well suited to growing low-THC hemp in the open air.
In late 2020 we planted 10 hectares of low-THC medical cannabis plants at Kēkerengū, making Puro the largest medical cannabis grower in the country.
Puro is growing under organic protocols at Kēkerengū, and has commenced the organic certification process for our outdoor crop.
We will manually harvest and boutique-process portions of our organic outdoor top flower - this will give us a truly premium product for local and export markets. This harvest is currently underway, with more than three tonnes of top flower picked to date.
The remainder of our outdoor plants will be machine-processed and sold in bulk form suitable for high value extraction. The drying, processing and packaging of our various products will take place at our medical cannabis drying facility, which has been constructed on site at Kēkerengū.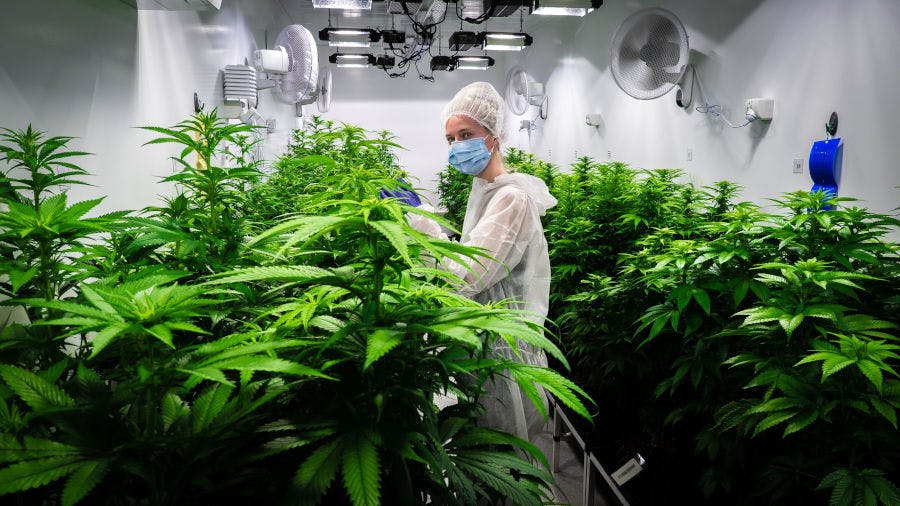 Waihopai Valley
Puro's research and indoor growing site is nestled in a quiet area of the Waihopai Valley in Marlborough.
Construction of our research facility at Waihopai was completed in September 2020. The facility will enable us to undertake market leading research and ensure our products are among the best in the world.
Puro has been granted its research facility licence at Waihopai along with our commercial cultivation licence for our breeding facility.
At Waihopai, Puro will grow cultivars with low THC, high CBD and an equal mix of THC and CBD.
We will hand harvest and boutique-dry manicured premium dried flower, sell other parts of the plant for extraction, and export our premium seeds.
In March 2021 we started our first commercial harvest of medical cannabis at our Kēkerengū site. It is New Zealand's largest commercial cannabis harvest. See the video below for more details of this exciting milestone.
Puro has built a solid foundation on which to grow – and we have secured the space to do just that.
Puro has nine hectares under lease at Waihopai for our indoor growing operations, and 25 hectares under lease for outdoor growing at Kēkerengū. The business could be expanded significantly with the use of additional adjacent land – we have up to 33 hectares available at Waihopai and 80 hectares of flat land available at Kēkerengū.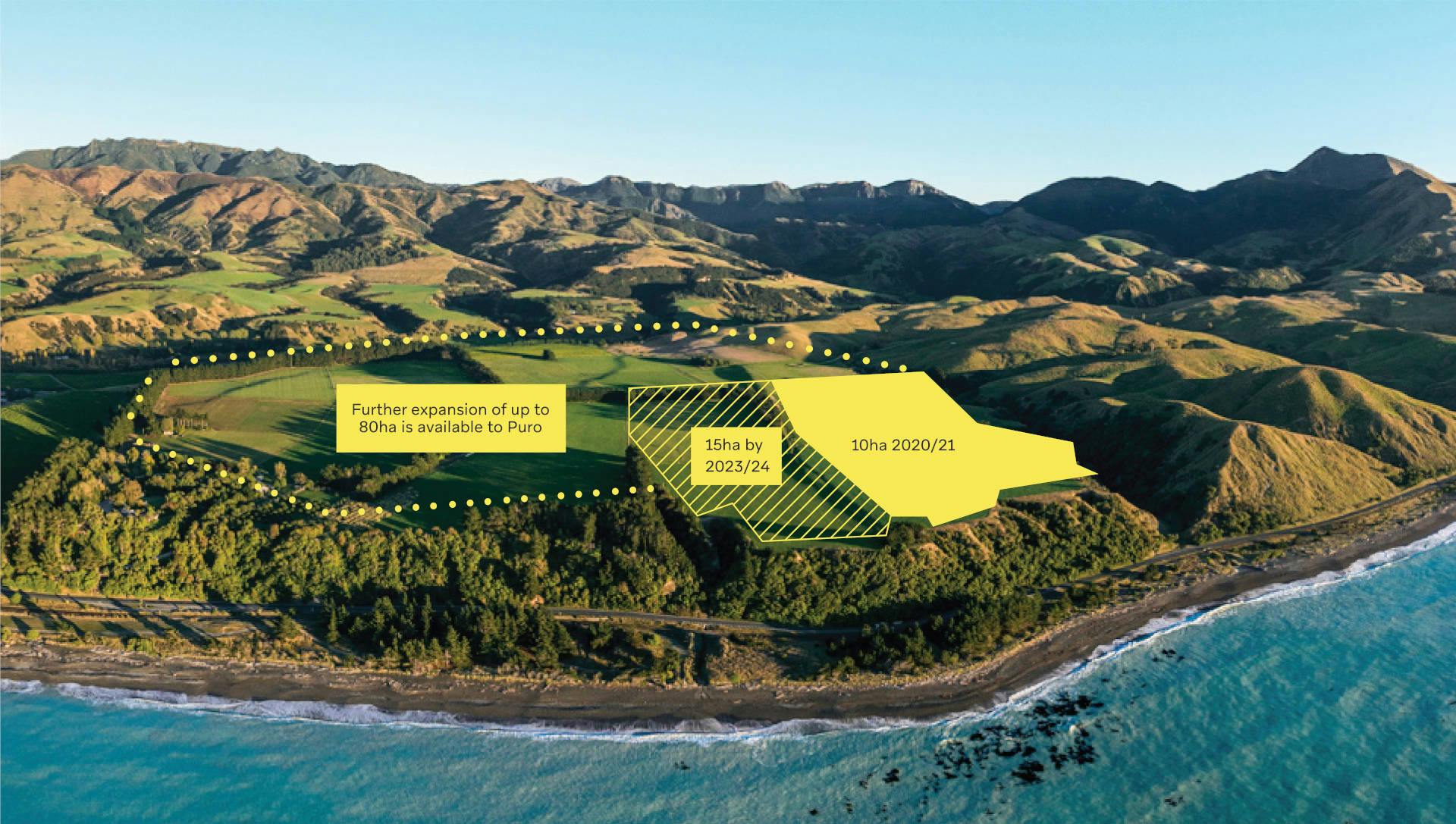 Waihopai is currently home to Puro's research facility with expansion plans for the site well underway.  The completion of our breeding facility at the site is planned for 2021.  This facility, which will be established in an existing building, is designed to produce the highest quality cannabis flowers from Puro's premium cultivars. The facility will sit beside Puro's existing research facility and play an important role in continuously improving its crop genetics, while also acting as a nursing facility for seed production and commercial glasshouses, which are planned for the site.
The completion of the Phase One glasshouse development is being funded by an offer to institutional and wholesale investors, which is currently underway.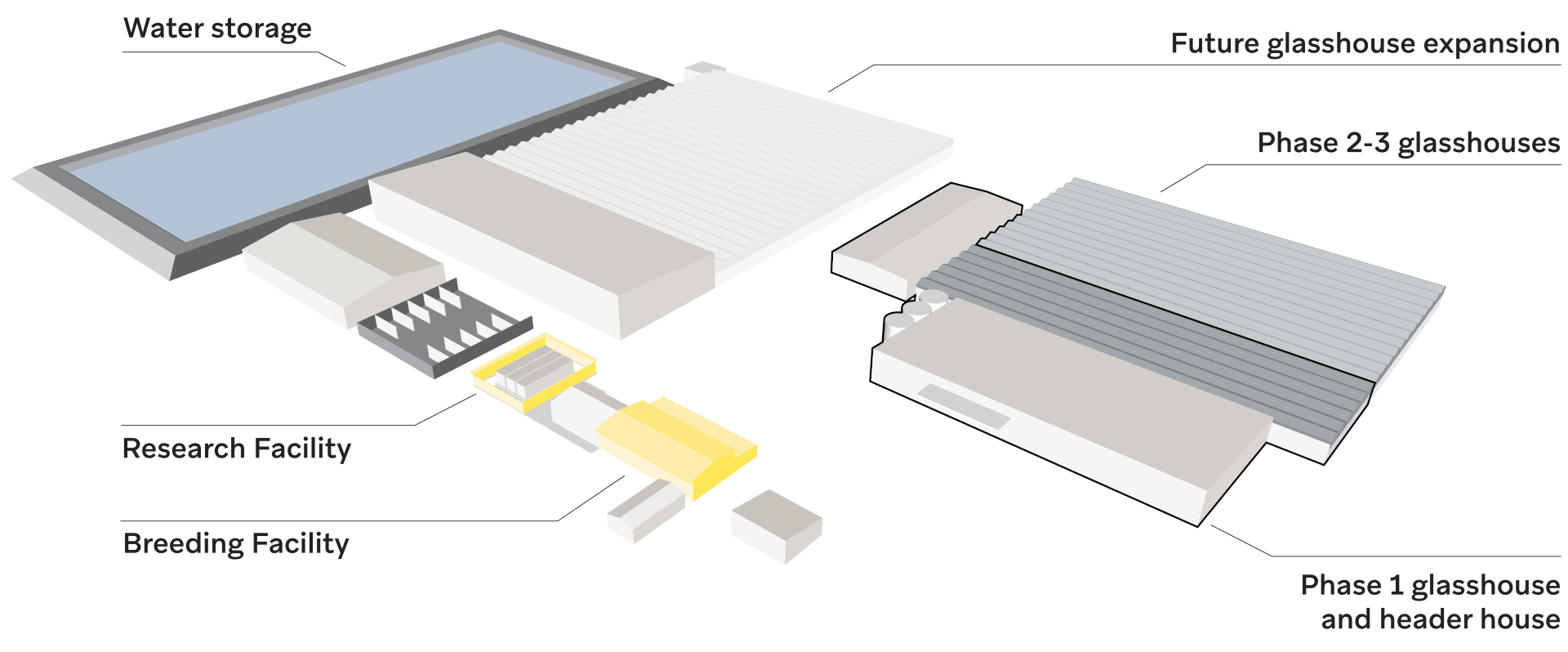 The successful completion of these raises will enable Puro to complete our indoor facilities (breeding facility and phase 1 glasshouse), providing an expanded asset base and dual income streams (outdoor and indoor growing).